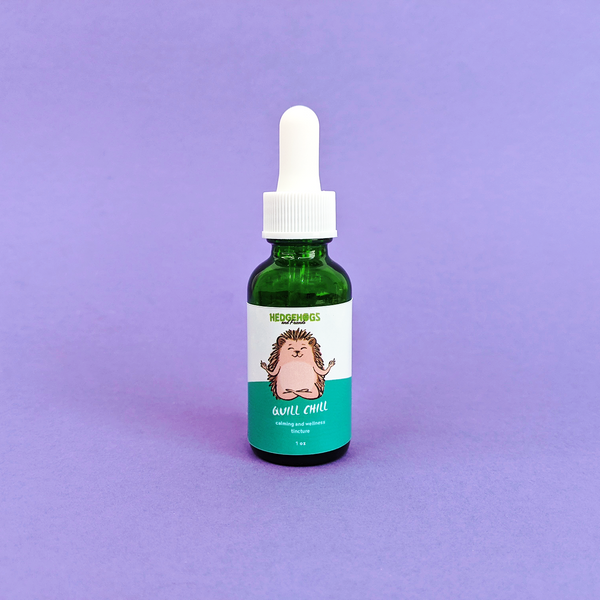 Quill Chill is a multi-purpose, daily-use tincture that promotes overall wellness, healthy skin, and helps improve mood.

With yummy all-natural sweet MINT FLAVOR that (most) hedgies love! A natural whole-plant extract combined with antioxidant oils and proprietary processed Medium Chain Triglycerides (MCTs) made from Coconut Essential Fatty Acids 6, 8, 10 and 12 help improve the overall health of your hedgehog by helping with signs of aging, mood, anxiety, appetite, inflammation and can even provide a calming effect for grumpy or less than easy to handle hedgies.

Price is for ONE 1oz bottle. (About a 6-12 month supply, depending on how much you use)
Our products are formulated by chemists and manufactured in a state-of-the-art lab using only natural, organic ingredients. Each product undergoes rigorous third party testing for quality control and is carefully vetted.
How to Use:
Topical: Apply 3-4 drops directly on back of hedgehog - once daily
Ingested: Apply 3-4 drops in hedgehog's mouth - once daily

Ingredients:
Active ingredient: Cannabis Sativa (Whole Plant Hemp) Extract* - 250mg Total
Other Ingredients: Caprylic/Capric Triglyceride (MCT Coconut Oil), Peppermint Flavor Oil, Stevia Rebaudiana Extract.

*Grown Organically. Extracted with CO2

Share this