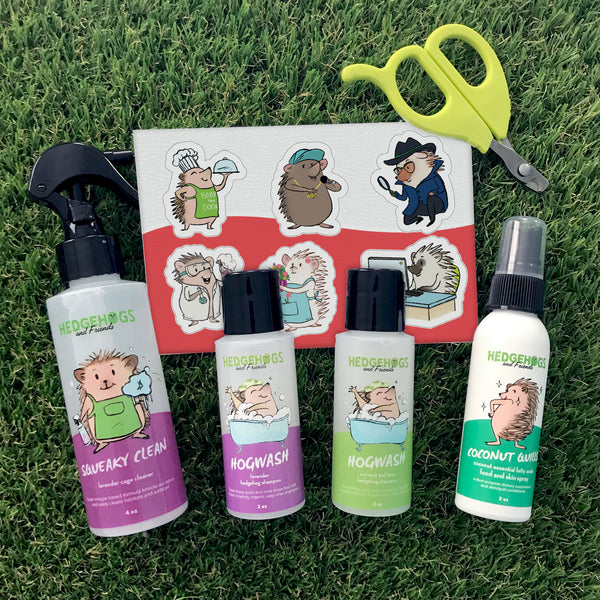 Our Hedgehog Gift Set is perfect for the hedgehog-owner in your life or makes a great starter kit for yourself! This set comes with both varieties of our Hogwash Shampoo (Coconut Lime and Lavender) in adorable mini-bottles, 4oz bottle of Squeaky Clean Cage Cleaner, and a full-size bottle of Coconut Quills, our dual-purpose dietary supplement and skin spray. Also included in the gift set is a sticker sheet of six adorable hedgehog characters and a hedgehog nail trimmer.
Hogwash Description:
Pamper your hedgehog with this moisturizing organic shampoo made from soothing aloe leaf juice and saponified coconut oil. Many shampoos leave skin dried out after use, but not Hogwash! Our gentle, but effective, ingredients work with the skin's natural oils to keep quills (and fur) glossy.
Enjoy the all-natural fragrance that leaves your hedgie smelling great without overwhelming the senses.
This low-sudsing shampoo is great for getting your quilled friend so clean and shiny without accidentally getting soap in those sensitive eyes. Our easy-rinse formula saves times and water!
Hogwash Ingredients:
Aloe Barbadensis Leaf Juice, Vegetable Glycerin, Saponified Oils of Coconut and Safflower Seed, Organic Camellia, Sunflower and Rice Bran Oils, Extracts of Chamomile and Quillija Saponaria, Papaya and Pineapple Pulp Extracts, Rosemary Oleoresin, Vitamin E Complex, Organic Green Tea, Geogard Ultra and Potassium Sorbate, 100% All-Natural Coconut Lime and Lemongrass Fragrance
Squeaky Clean Description:
Let's face it. Cleaning cages is one of the least fun parts about owning a small animal. But our tiny friends deserve the best of care! Squeaky Clean is a special highly-concentrated vinegar compound based formula that does an amazing job eliminating urine odors and effectively cleaning solid surfaces. The light lavender scent leaves surfaces and cages smelling great. This product is great not only for cleaning cages, but also surfaces, dog crates, cage accessories and more! A little goes a long way with this product, so spray down dirty surfaces and rinse with very hot water then dry.
Squeaky Clean Ingredients:
Purified Water (Aqua), Potassium Acetate (a combination of potassium and acetic acid), Citric Acid (natural fruit derived), Acetic Acid (highly concentrated compound from vinegar), Sodium Chloride (salt), Citrus Limonium (Lemon) Oil (and) Citrus Aurantifolia (Lime) Oil, Polyglyceryl-2 Caprate (Plant Polysaccharide),  Lavandula Angustifolia (Lavender) Oil
Coconut Quills Description:
Coconut Quills is a dual-purpose dietary supplement and skin/quill conditioner that harnesses the power of coconut essential fatty acids to combat dry skin to create a sleek and healthy coat & quills.

Our proprietary processed Medium Chain Triglycerides (MCTs) are made from Coconut Essential Fatty Acids 6, 8, 10 and 12 and combined with antioxidant oils to help improve the overall health of skin and coat, relieving itchy, dry skin as well as aiding in overall wellness.

Our products are formulated by chemists and manufactured in a state-of-the-art lab using only natural, organic ingredients. Each product undergoes rigorous third party testing for quality control and is carefully vetted.
HOW TO USE:
Topical: Spray 3-4 pumps directly on back of hedgehog
On Food: Spray 1-2 pumps on kibbles in bowl 2-3 times a week
Coconut Quills Ingredients:
Caprylic/Capric Triglyceride (100% Coconut Oil Fatty Acids), Grape Seed Oil Extract (safe for pets including dogs), Rubus Idaeus (Raspberry) Seed Oil
Share this