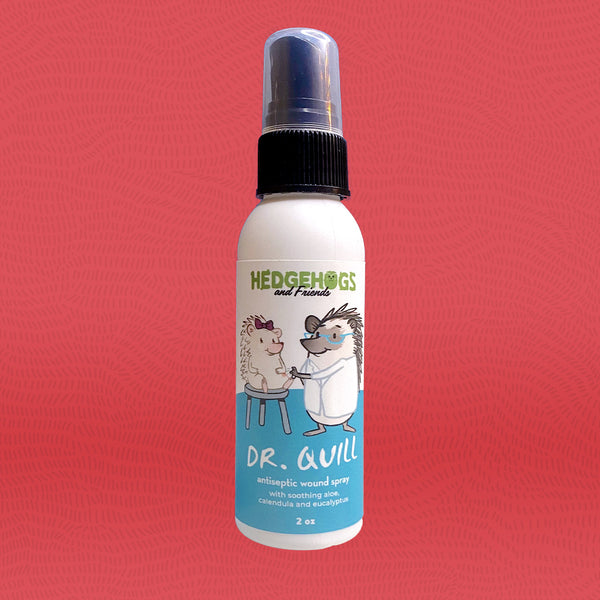 DR QUILL - ANTISEPTIC WOUND SPRAY WITH SOOTHING ALOE, CALENDULA, AND EUCALYPTUS - 2OZ
When a Hedgehogs gets injured, the easiest way to help it heal is with a spray of Dr. Quill. Some hedgies run their footsies raw. Some hedgies get skin infections from ingrown quills, or abrasions from cage accessories. Dr. Quill makes it easy to spray an antiseptic on your hedgie's minor scrapes, cuts and scratches. Dr. Quill also fights fungal infections like ringworms. Made with soothing aloe and calendula, this product is great to have on hand BEFORE you need it.   
DESCRIPTION:
Always see a vet if you have an injured hedgehog. This product helps heal minor scrapes, cuts, and surface scratches. Provides a soothing feeling to these minor skin injuries. Kills topical germs to keep minor wounds clean to prevent infection. Easy to spray application.
INSTRUCTIONS:
Clean area thoroughly to remove any debris, soiled bedding, feces or other contaminants. You can use our Hogwash shampoo to clean. Rinse area completely, to remove any suds. Spray close to the skin without touching the sprayer to the skin. Avoid spraying in eyes. Not for use on the face. Spray 2-4 times. Allow to air dry before returning your hedgehog to their habitat.
ACTIVE INGREDIENTS:
Benzalkonium Chloride 0.13% (Antiseptic Germ Killer)
INACTIVE INGREDIENTS:
Deionized Water, Cetrimonium Chloride, Aloe Barbadensis (Aloe) Leaf Extract, Calendula Officinalis (Calendula) Flower Extract, Eucalyptus Globulus (Eucalyptus) Leaf Oil, Potassium Sorbate, Sodium Benzoate


Share this