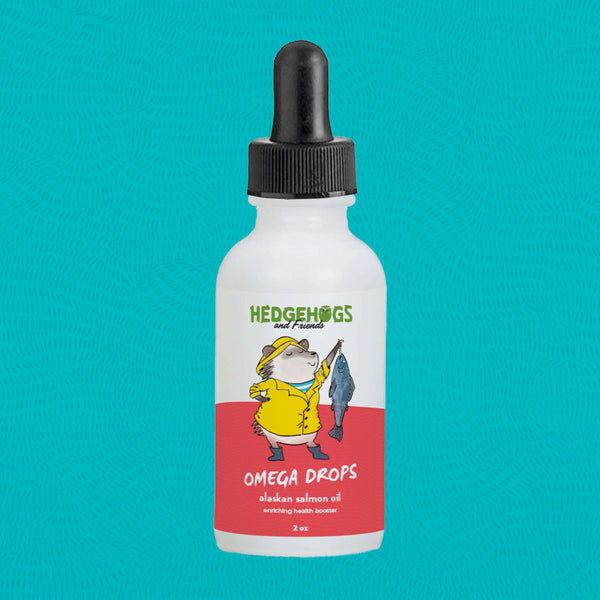 Hedgehogs love the taste of Omega Drops, a salmon oil daily supplement full of EPA and DHA Omega 3 Fatty Acids derived from wild-caught Alaskan Salmon. The salmon is sourced from an independently certified MSC fishery, which ensures the quality of the fish and the sustainability of their fishing process. This oil is NON-GMO and made in the USA.

Incorporating Omega Drops into your hedgehog's diet can help promote healthy skin and quills, as well as help ease dry skin, itching, and other skin concerns. Additional benefits include promoting joint health, and fighting inflammation, and other concerns that naturally come with aging. Omega Drops can either be used as a daily supplement or a couple of times a week.

Plus, Omega Drops can be a rewarding treat to incorporate into your hedgehog's enrichment program. You can either offer Omega Drops directly to your hedgehog using the dropper, or leave Omega Drops on some easy-to-clean cage items for them to investigate and play with.

        
Product Care Instructions:
Refrigerate after opening, and store away from heat and light. Your product comes in a light-safe container with an easy-to-use dropper. Use within 90 days of opening. Without proper storage, salmon oil can go rancid. Do not use beyond care instructions.

      
Suggested Daily Usage:

1/4 dropper daily offered directly to your hedgehog or on kibble
One bottle is a 60-90 day supply
Do not use more than the suggested daily usage.

If you feed Omega Drops on kibble, make sure to thoroughly clean your hedgie's food bowl each day. Do not leave kibble with Omega Drops added in the bowl for more than 24 hours.
Ingredients:
Wild-caught Alaskan Salmon
Share this