Make Spring Cleaning Easier with Squeaky Clean!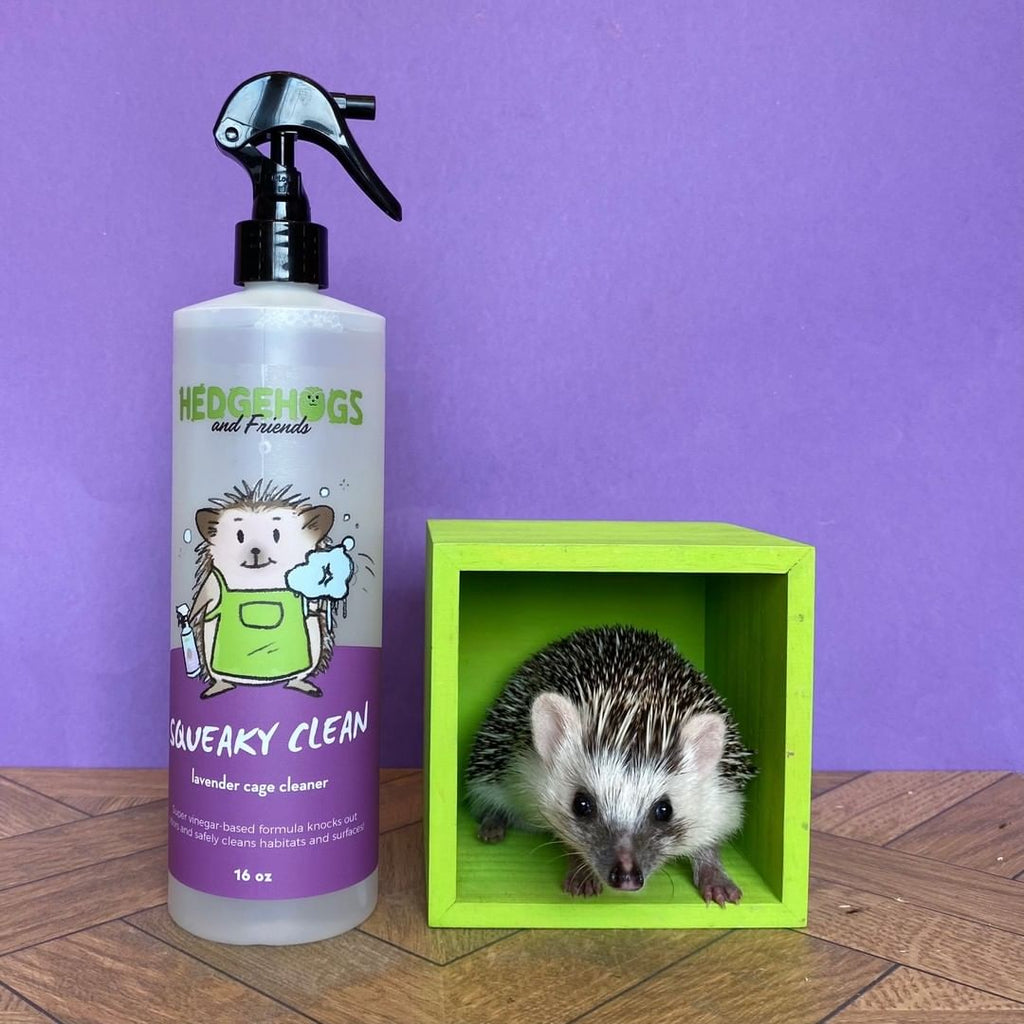 Spring season is here, and you know what that means: spring cleaning! Cleaning may seem like a tedious task, but with our Squeaky Clean Cage Cleaner, you'll end up breezing through the chore before you know it!

As hedgehog breeders, we've cleaned LOTS of cages and used a plethora of different products over the years. After being dissatisfied with typical, harsh and chemical-laden household products, we tried using a homemade vinegar-based product. Vinegar is a great cleaning ingredient that cuts through urine and ammonia, but it didn't smell all that great and it didn't really have the cleaning power we needed. So, it was back to the drawing board.

We ultimately ended up developing a more potent formula made from all-natural ingredients, including highly concentrated vinegar compounds mixed with calming lavender, and it really does the trick! It's tough on messes, without the use of harsh chemicals, and the lavender essential oil we include means there's no unpleasant lingering vinegar smell - just light, soothing notes of lavender.

We tested Squeaky Clean thoroughly on our own herd's cages, dishes, water bottles, and accessories, and the cleaning power has been so amazing, even our vet was blown away by the cleanliness of our cages!

So if you're looking for a cleaner that ticks all the right boxes, give Squeaky Clean a try! We have a 100% satisfaction guarantee.
Gets rid of pesky odors
Effectively cleans solid surfaces (Cages, cage accessories, you name it!)
Lasts a long time - a little goes a long way with our highly concentrated formula
A light lavender scent left behind leaves surfaces smelling great
HOW TO USE SQUEAKY CLEAN:

Squeaky Clean is for multi-use! Not only is this product great for cleaning cages, but also cage accessories, wheels, bowls, solid toys, surfaces and more!
Dispose of your hedgie's soiled bedding
Spray down the cage and other surfaces with Squeaky Clean
Scrub areas that need special attention
Rinse thoroughly with hot water.
When you're done, towel or air dry.
Refill your hedge habitat with clean bedding and replace their cage accessories.
Share this