A Tour through Historic Hedgehog Sculptures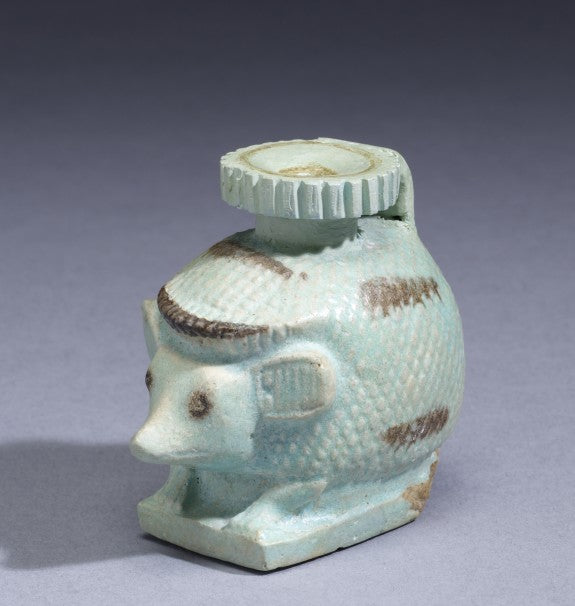 People have been loving hedgehogs since ancient times! Our delightful prickle pals have been inspiring people to make art in their image since there were people to inspire! Here are some ancient hedgehog sculptures made by hedgie-loving hands a long, long time ago:
This hedgie vessel is made from copper, and is from around 3000 BCE. Look at his little nose and his tiny feet sticking out of his wonderfully round body. We love the detail the artist put in his quills!
This terracotta sculpture from around 2300 BCE shows a hedgehog sitting on his tush holding a bowl out. We're thinking he's asking for more food!
This hedgehog amulet was made around 1700 BCE in Egypt. Experts think this amulet was probably used for protection, and who wouldn't feel protected with a hedgehog watching their back?
This hedgehog is cruising in style! Made of limestone and created around 1500-1200 BCE, this hedgie is attached to her own set of wheels. Imagine her zooming by!
Look at those ears! This long-eared hedgie looks alert and ready to play! This sculpture could have been made anytime from 1550 BCE to 660 BCE, and it's pretty green color comes from the soapstone material it's made of.
Made around 600 BCE, this hedgie pot contained cosmetics. The artist used a blue-green glaze for the body of the hedgehog, and then added details with a brown glaze. So it looks like this hedgie was wearing the cosmetics as well as holding them!
This hedgehog sculpture was made anytime around 660 to 180 BCE. You can tell the artist took a lot of time carefully carving out the cross-hatched pattern of this hedgie's quills. We love the spots on this hedgie's body!
For more information on each of these sculptures, click on the image!
Hedgehogs and Friends Product Labels
We've made our own hedgie-inspired art, too! We created original hedgehog illustrations to adorn our product labels. Our illustrations were designed to clearly display what the product was intended for while still capturing the spirit of our favorite spiky side-kicks.
This hedgie is having so much fun scrubbing themself clean! Nose in the air like they just don't care, they're using Hogwash Shampoo to wash away any grime, leaving them smelling sweet and fresh!
Our Coconut Quills bottle features a sassy little hedgehog that knows her quills are shiny, strong, and vibrant after a Coconut Quills treatment! She's looking her best, feeling her best, and showing off that hog-itude!
This hedgehog is ready to eat! This bibbed hedgie is on the front of our Really Good Hedgehog Food, enthusiastically waiting to fill his belly up with the tasty and nutritious daily kibble.
"Hedgehogs Can Do Anything"
Inspired by our custom product illustrations, we carried that same adorable artwork style into our children's book, "Hedgehogs Can Do Anything!" Our cast of hedgehog characters was expanded, and in our book is a whole new herd of hedgies to fall in love with! The hedgehogs in our book are following their own unique dreams, and will inspire your little hoglet to do the same!
What did you think about all these ancient hedgie sculptures? Have you made any art inspired by hedgehogs? We would love to see it! Tag us on
our Instagram
at
@hedgehogsandfriends
 and we'll share your art with our followers!
Share this