Our Hedgehogs Share Their Favorite Products!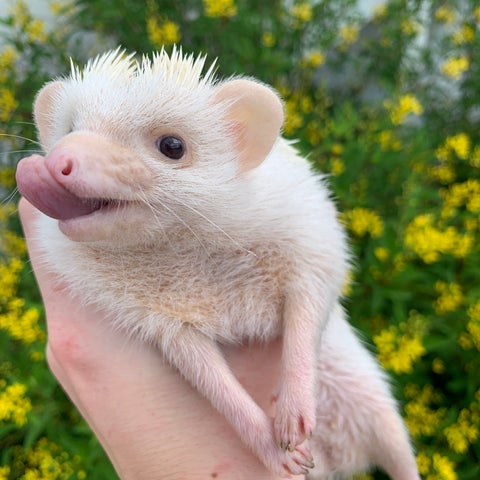 Have you ever been curious about our personal hog herd? Well, get prepared, because we're about to introduce you to some of our very own hedgehogs! They even come with recommendations of their favorite products.
Odyssey
First up is our Odyssey. Odyssey has a tendency to get dry skin, so she uses Coconut Quills to keep her skin and quills nice and moisturized. She was also blessed with a high metabolism, which means she needs more daily calories than the average hog. A little added Coconut Quills in her food provides the extra calories she needs to keep healthy and nourish her skin from the inside out.
Sprinkles
Next up is Sprinkles! Sprinkles is one of our older hedgehogs, but that doesn't mean she's any less feisty! She does occasionally have trouble with her arthritis though, so we use Quill Chill to help keep her comfortable while she spends her golden years in style.
Flour
 This little girl is Flour. Flour is completely white, just like her namesake, so whenever she gets even a little bit dirty you can tell immediately. That's why she recommends our Hogwash Coconut Lime Shampoo. This way she gets the cleaning she needs while getting her skin nice and hydrated at the same time!
Mochi
This here's our pinto baby Mochi. Mochi's favorite thing in the world is food. This little hedgie loooooooves to eat, and she especially loves our Really Good Hedgehog Food. Our Really Good Hedgehog Food gives Mochi all of the nutrients she needs while keeping out any unnecessary fillers that she doesn't.
Night
The last hedgie we'll be introducing today is Night! Night enjoys running around her cage at all times of day, so she needs her cage to be squeaky clean for her pattering feet. She appreciates her cage being cleaned with Squeaky Clean Lavender Cage Cleaner because it keeps her space fresh while not leaving behind any chemicals that might hurt her.
Feel free to click on any of the product images or names to grab some of their favorites today!
Now It's Your Turn!
Now that you've met some of our herd, feel free to send us pictures of your darling hogs too! We love getting tagged in your hedgehog photos. Download this label to cut out and take photos with your hedgie, and then tag us with #MyHedgiesFav on our social media channels to get your hedgie featured!
Share this