Retired Hogwash Shampoo Scents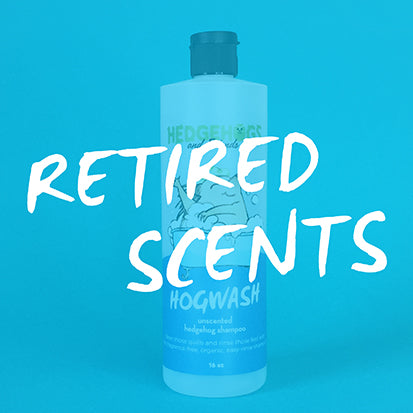 We're Retiring Unscented and Grapefruit Cilantro Shampoos
About Unscented – We originally felt like some customers would prefer an unscented shampoo option, so it was something we wanted to offer. However, while it's a great product, the vast majority of customers have preferred our Coconut Lime shampoo and right now it doesn't make sense to continue. If anyone really wants to stock up on Unscented Hogwash, send us an email to info@hedgehogandfriends.com, and we can do a special order for you.

About Grapefruit Cilantro - We absolutely love the Grapefruit Cilantro shampoo, but we're retiring it for now to make room for Lavender, a soothing scent we think will be a new customer favorite!
About the Gift Set - The gift set will still feature our Coconut Lime, Unscented and
Grapefruit Cilantro Shampoos, but we will be updating it soon to include our new
Lavender Shampoo and another new product we have in the works –stay tuned! :)
Share this